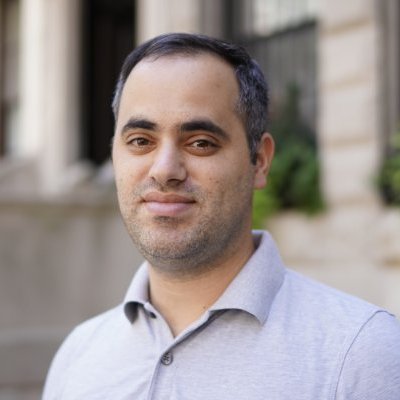 Friday Feeling: Marble Rye
If France is known for its baguettes, then Germany is known for its diversity of bread. Germans make more kinds of bread than anyone else, counting over 300 variations. And Germans take bread seriously. In 1955 Willy Eiselen and his son Hermann Eiselen founded the Bread Museum that's dedicated to the 6,000-year history of bread as an indispensable basis of human culture and civilization, and they even have a talking loaf named Bernd.
The vast majority of bread in Germany contains rye flour. Unlike wheat, rye can grow in areas with poor soil, limited sunshine, an extended period of cold, dampness, and drought. This made rye bread popular by default in countries like Germany, Russia, and Poland. But, in other parts of the world, rye bread is an acquired taste. In 1792, German writer Johann Wolfgang von Goethe recorded that while on a military campaign in France, he offered some of his dark rye bread to two captured Frenchmen and they promptly fled back to their own lines.
"A lot of times, people ask me how to acquire a taste because they want to learn how to like kale – or, even more commonly, they want to find out how to get their kids to like healthy foods," writes chef Andrew Zimmern. "The truth is that we're not genetically predisposed to dislike certain foods. In fact, we're predisposed to like the majority of them (with the exceptions being bitter and ammoniated things because they can be hallmarks of spoilage or something that's not necessarily safe). The problem comes with the messages our culture gives us about certain foods."
One of the popular methods for acquiring a taste is repetition. A 2010 study found that children who tried a vegetable they didn't like multiple times began to like it more. Of course, committing to do something we dislike repetitively is a challenge not many of us can complete unless it involves something basic like bread. "Misery time is bread time," said Heinrich Junemann, the head of the Berlin bakers' guild in a New York Times article from 1998. In the hungry years following World War II, Germans on average consumed 310 pounds of bread a year.
This week, managing partner at IA Capital Andrew Lerner introduced Marble, "a loyalty/rewards/payments insurtech that has the potential to transform customer acquisition, customer engagement, and payments across all personal lines." The new venture, incubated by IA Capital for a year, was conceived after a year or two of exploring different ideas according to Lerner.
On its website Marble lays out its mission: "Insurance companies spend billions on marketing to find new customers, and often those costs come back to you in the form of higher premiums. We're changing that." If this line rings a bell, then perhaps you're thinking of Clearcover, another IA Capital-backed startup. "You come to see how much insurance companies end up wasting on things like unnecessary overhead, advertising, marketing and things that don't at the end of the day, add value to the consumer," said Kyle Nakatsuji, Clearcover's co-founder and CEO in 2017. "Do you really want to end up paying for multibillion-dollar advertising companies in your premium? I mean, how much do you really want to see Flo? How much do you want to see a lizard?" Clearcover abandoned this mantra in April 2019 when Nakatsuji issued a public apology after his company came to the conclusion that working with independent agents ('unnecessary overhead') was the single greatest opportunity for growth. So, either Marble (and team) didn't get the memo or they believe there's still an opportunity to bring Clearcover's original mission back to life.
For members, Marble offers up to 5% back if they simply sync their existing insurance policies with the platform. For insurers, "the biggest innovation for marketing and engagement since email," promises access to a powerful new set of tools to engage and retain customers. But this loyalty platform is also an acquisition platform, and as Lincoln once said, a house divided against itself, cannot stand.
One of the features that Marble offers members aside from organizing insurance documents is shopping for insurance. "When you use Marble to shop for insurance, you'll be able to easily compare rates and coverage – saving you even more money." Despite this, Marble is hoping insurance companies will encourage members to join its platform because if they can't generate loyalty, they can at least try to generate new sales. "As the hub for customers throughout their insurance life cycle, Marble is uniquely positioned to understand when individuals are ready to shop for new insurance. For insurers, this offers a targeted acquisition channel composed entirely of motivated potential customers."
In The Lord of the Rings, Sauron deceives everyone by making a secret ring that rules them all. Unfortunately for Marble, we aren't living in a fantasy world, and insurers, unlike the naive characters from the movie, are suspicious by nature. But if Marble is truly looking to improve the model, they should have called the folks at GloveBox to understand the delicate nature of asking insurance companies to trust you with their customers. The startup founded by agents from Colorado Insurance is powering agents with better consumer tools around organizing and accessing insurance documents, service requests, and new quotes without getting in between their existing relationship with customers. After all, most agents don't have a loyalty problem, they have a communication problem.
In this job post, Marble is searching for an intern product analyst who will help with the company's go-to-market strategy. Since it presents a conflicted model for insurance companies, Marble needs to realize that the only loyalty they can build is for themselves, which is why their best shot is to adopt some parts of the Rakuten cashback model. The Japanese tech company persuades consumers with a convenient solution that offers cashback online and in-stores at major retailers such as Kohl's, Nike, Best Buy, and others, eliminating the need to sign up for the many loyalty programs different brands offer. But, if Marble does adopt the Rakuten model and is able to bring customers onto the platform, it will discover that its question of why consumers should pay for insurance companies' massive marketing budgets is not the right question; the right question is why do insurance companies need massive marketing budgets, to begin with? The answer is consumers.
For most, insurance is an acquired taste. But unlike rye bread which you may start to like after multiple tries, the majority of insurance customers only taste the bitter premiums as few actually get to taste the benefit when their claim is paid. And since premiums are the main flavor for most, anyone with the promise of a better price can win, which is why the companies that are successful at acquiring customers – GEICO, Progressive, Root, and Lemonade – promote their prices on repeat.
Shefi likes to say that insurance is a rarely differentiated product sold to a generally indifferent consumer. If I had to segment that 'generally indifferent consumer,' I'd say they're composed of two main groups: those who don't care about insurance or potential savings, and those who don't care about insurance but do care about savings. So, when building a loyalty program you can scratch off the first group and if you're capable of acquiring the second, you'll always be measured by the quality of the rewards.
Get Coverager to your inbox
A really good email covering top news.