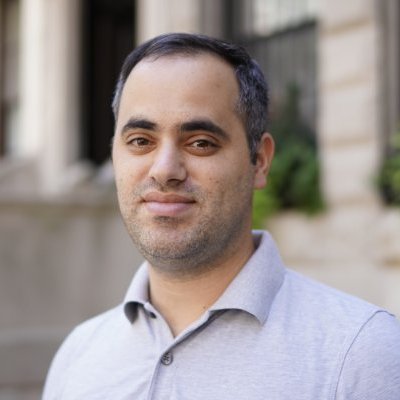 Friday Feeling: Mutual of Who?
In the 1970s, the US Federal Trade Commission (FTC) began encouraging advertisers to make comparisons with named competitors, with the broad, public welfare objective of creating more informative advertising. The term – comparative advertising – is an advertisement in which a company specifically mentions a competitor by name with the ultimate message of we are better than them. "Rule 1 in all salesmanship courses I have studied is: Never attack a competitor," copywriter Claude Hopkins once said. But since business is often emotional and emotions make us break rules, comparative advertising took off, bringing us great entertainment and marketing wars in which advertisers respond to direct or implied attacks by others.
In September 1994, American Express introduced Optima True Grace, a revamped version of its Optima card that unlike regular American Express cards that require balances to be paid in full each month, allowed customers to carry a balance from month to month while offering an interest-free "grace period" on charges. The card came with features that few Visa cards offered back then, and the ad introducing it encouraged people to recycle their old credit cards instead of just throwing them away. 
Not long after, Visa reacted with the following ad: "American Express is offering you a new credit card, but you don't have to accept it. Heck, 7 million merchants don't." And shortly after, American Express fired back.
In March 2013, Mutual of Enumclaw published a YouTube video that took a direct hit at GEICO. "Hi, we're a company that's been helping people for over a hundred years, but most people have probably never heard of us and that's ok – we kinda of like it that way," the announcer says over a farm background and a 'Mutual of Who?' question (just hit play). "We're not flashy. We don't have lizards or cavemen or funny pitch ladies. That's because we're an insurance company, not an entertainment company."
Founded in 1898 in the small town of Enumclaw, Washington, the regional insurer initially served farms throughout the state up until the late 1940s when it began to offer insurance for families. In 1952 the company moved into Oregon and Idaho. In 1963 it began offering commercial insurance to other businesses throughout Oregon, Idaho, and Washington. And almost 40 years later it added its fourth state, Utah.
It took the company 104 years to be available in four states, and just over six to add three more: Arizona in 2014, Montana in 2018, and Wyoming in 2020. But despite this rapid geographical expansion, the company that relies on independent agents is seeing a decline in policies in recent years.
| | |
| --- | --- |
| Year | Policy count |
| 2015 | 290,000 |
| 2016 | 272,829 |
| 2017 | 259,708 |
| 2018 | 247,221 |
| 2019 | 219,746 |
Over the years we've seen great brands such as Tylenol and Advil, McDonald's and Burger King, and Coca-Cola and Pepsi, go at each other via ads. One reason these rivalries are so memorable is that they present consumers with a true 'apples to apples' comparison – Tylenol and Advil sell painkillers, McDonald's and Burger King make burgers, and Coca-Cola and Pepsi manufacture soft drinks. With so many insurance companies offering the exact product, you would think we would have our very own rivalries to talk about, but what stands out are two companies that have realized that instead of taking on a specific rival, it's better to take on an entire industry.
In 2004, GEICO went full steam ahead with the Caveman commercials to drive home the point that using geico.com was so easy even a caveman can do it. They didn't talk about the product, instead, they introduced a new way to buy insurance, which made the independent agent-driven model seem old. And about 12 years later, Lemonade came in with the tagline "Forget everything you know about insurance."
Considering the fact that Lemonade's cofounders have Israeli roots, you could imagine they paid close attention to the GEICO of Israel – I.D.I. In 2016, 22 years after becoming Israel's first direct insurance company, it surpassed Harel Insurance in terms of market cap, becoming the country's most valuable insurance company. The company's success can be attributed to its advertising campaigns that go against insurance agents, which led them to court several times as agents weren't happy.
Just like GEICO, Lemonade realized that instead of taking on one company, it needed to find a common industry element to go against and that led them to their 'conflicted business model' messaging.
"As we enter into our 123rd year of operations, we continue to improve how we serve our members with respect for our past, while embracing the future ahead of us in a rapidly changing world," writes Mutual of Enumclaw president and CEO Eric Nelson in the company's 2019 annual report. "We understand we are stewards, trusted to leave the company better off for our members than it was when we arrived. Our dream is to build a company that thrives well beyond our lifetimes, where our children's children work to protect and serve our members for many generations to come."
As an industry that thrives on storytelling, it would be wise to look at how some stories are losing their charm.
Get Coverager to your inbox
A really good email covering top news.