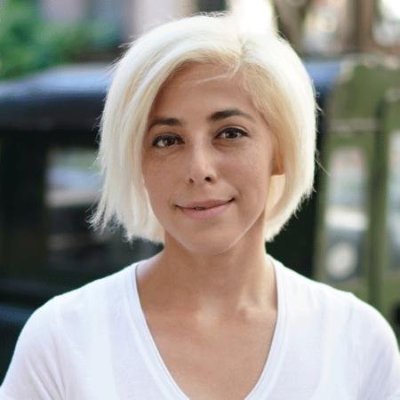 Friday Feeling: The Responder
I was in Israel when 9/11 took place. I was at work when my mom rang to tell me the news. Her first thought was that the bombing took place a 5-minute drive from where I was – the Israeli Twin Towers. As the years go by, you pick up more stories, you remember more names but not nearly as many as you should.
I remember Muffin.
Marya Columbia, or Muffin as her father would call her, was part of the group of musicians who played at St. Paul's Chapel during the 9/11 recovery efforts. It's likely that her work there contributed to her lung cancer. She petitioned for health coverage under the World Trade Center Health Program not as a 'survivor' but as a 'responder' because she believed that musicians should be covered. Ultimately, she was admitted; becoming the first musician to receive benefits through the program. Columbia passed away last year at the age of 63. Caroline Lester of The New Yorker wrote a wonderful piece that you'll just have to read because I'll never do it justice by summarizing it. Btw, you may already have read it as it was included in last year's newsletter that's worth re-reading because who doesn't enjoy digging up memories on occasion?
Memories are good and bad, manipulative and self-serving. There are also human memories and corporate memories.
The beautiful thing about human memory, writes BlueKai co-founder and ex-CEO Omar Tawakol, is that even though it's the cornerstone of our intelligence, it emerges from a very simple and seemingly dumb component – the neuron. According to MIT Professor and Neuroscientist Sebastian Seung: "We've become accustomed to the idea that an assembly of dumb components can be smart. None of the parts in a computer is by itself capable of playing chess – but a huge number of these parts, when organized in the right way, can collectively defeat the world champion. Similarly, it's the organized operation of your billions of dumb neurons that make you smart." And precisely here is where insurance is at a loss.
Internally, insurance is a 'People Business' making it critical for leaders to manage memories – organize them in a way that they don't lead with a dumb recollection of few, or pay too much attention to those who have an agenda or biases but rather follow knowledge and of course opinion (many opinions) on how to move forward.
Externally, customers and prospects have memories too. One such customer, Century 21, expected the same payments and treatment from insurers as those received after 9/11 stating that it has no choice but to shut down after not being paid $175 million from insurers under policies put in place to protect against losses stemming from business interruption such as that experienced as a direct result of the COVID-19 pandemic.
I have shopped more than a few times at Century 21 (NYC + Brooklyn). The two obvious groups of customers are tourists and Orthodox Jews. The problem is the decline in tourism and the general uncertainty which retailers have battled in the last decade. But there's another problem. A People Problem.
Century 21 was founded in 1961 by Syrian Jews and cousins Al and Sonny Gindi (I'm half Syrian btw). Isaac Gindi, the son of Sonny and a co-owner of the Department Store once explained how and why 'he stuck it out' after 9/11:
"It took six months to get back on our feet. It was amazing because at the time we only had three stores and our flagship store was 50% of our volume. We were very close to going out of business.
We had $30 million worth of merchandise on order that we could not liquidate because we were closed for six months. I went to my Uncle Al Gindi who was the CEO at the time. He had survived the depression, and he told us to call the vendors and see if they would accept cancellations. We called. All the vendors took the cancellations. We told them we were going to stick it out and going to help rebuild the downtown area. We were the only anchor down here at the time."
Gindi also added that "The people came, but of course, it was tough. For three to four years, we weren't doing the business that we used to. Then, everything started to come back. New Yorkers came out in droves to support us. It was a beautiful thing."
Al Gindi died of natural causes on July 28 2018 at the age of 96. I don't believe everyone is replaceable and I do believe Century 21 without Al and his recollection of how he survived the depression is one of many drivers that led the company to bankruptcy. 
Switching Gears
There are two kinds of insurance products – compulsory and non-compulsory. With mandatory products like home and auto, insurers are at best compared to their competitors and despite what most consultants will have you believing – customers' expectations haven't changed that much as most times customers are satisfied with a fair price and a friendly service. But with other insurance products, the landscape isn't easily recognized as competition comes from within and outside the industry.
GoFundMe, Freebird & Pawp
The non-insurance option for life insurance
GoFundMe, one of the largest fund-raising sites, says that 13% of its campaigns created in 2017 were described as memorials, which include funerals and are one of the company's fastest-growing categories. That follows on a 2015 study by the Funeral and Memorial Information Council, which reported that 17% of adults aged 20 to 39 had used the internet to solicit or donate money for funeral-related arrangements.
Since 'online giving' is here to stay we've seen Legal & General launch a crowdfunding website dedicated to memorial funds called Alittlehelp.com in 2017 to later shut the service down – by 'later' think approximately a year later. WoodmenLife, a not-for-profit life insurer from Omaha, launched a similar initiative called Impact in 2019. Too bad its corporate memory didn't stop it because today Impact features ~12 closed campaigns – only 1 reached its fundraising goal.
Meanwhile, GoFundMe isn't slowing down (see site traffic below) and isn't only the answer to funerals and vet bills but also the answer to lost business income – a GoFundMe campaign for the hair salon that treated Nancy Pelosi raised $336,503 from thousands of people.
The non-insurance option for flight delays
Flight rebooking service Freebird that's now inactive following its recent acquisition by Capital One was founded in 2015 as a mobile app for customers to rebook any flight if their travels were delayed, canceled or disrupted by means beyond their control. It has raised a total of $16.5 million and started out as a direct-to-consumer business to later discover greater success with corporate clients such as Discovery; pun intended.
The non-insurance option for pet insurance
Yesterday, I caught up with the founder and CEO of Pawp Marc Atiyeh. Established last year, the company has evolved from a discovery portal for pet parents to a pet emergency fund. The service that went live a week ago costs $19 a month and in exchange customers receive access to licensed vets and up to $3,000 a year in coverage for up to 6 pets in the event of an emergency. The plan comes with zero deductible, a 5-day mandatory wait period, and a maximum of 4-hour limit in place from the time the pet visited the vet as this is an emergency fund. "No one is doing this," Atiyeh tells me; emphasizing the importance of staying in the company's current price range as 'you don't want to get too close to insurers charging $60-100 a month.'
To Atiyeh, this is an ideal and inexpensive way to cover only what's absolutely necessary. "If you are one of those people willing to pay insurance companies between $60-$100 a month for pet insurance, you can probably pay $2,000."
Pawp is simply one alternative to pet insurance; after all, only 1% of pets in the US are insured (compared to 25% in the UK, and 40% in Sweden) and there are plenty of 'segments' in this population who won't find insurance accessible or affordable or who simply fall smack in the middle as pet parents often shop for coverage as soon as they get their pet or towards 'the end,' Finally, many will prefer to spend their dollars on better food or better grooming making 'insurance' less of a priority.
For now, analysts are watching pet insurer Trupanion as it's finally (it enrolled its first pet in Canada in 2000 and its first pet in the US in 2008) heading towards profitability. In its Q2 2020 earnings release, the company shared it had 744,727 enrolled pets (up 29% compared to the same period last year), and that its net income was $1.4 million, or $0.04 per basic and diluted share, compared to a net loss of $(1.9) million, or $(0.06) per basic and diluted share.
Non-compulsory products are a much harder sale as insurers don't benefit from memory-based judgments whether good or bad. Know the saying "Better the devil you know than the devil you don't?" Insurers have learned how to compete against one another. Now, they need to step outside their zone to face a different breed of companies that aren't always playing by the rules. But if you can't beat them, join them. After all, isn't that what Chubb Studio is all about?
Get Coverager to your inbox
A really good email covering top news.