Build vs Buy – A conversation with Ryan McMahon of Cambridge Mobile Telematics
In this episode of The Coverager Podcast, I spoke with Ryan McMahon, VP of Insurance and Government Affairs at Cambridge Mobile Telematics (CMT). The interview was inspired by a private conversation Ryan and I were having around connecting devices with insurance.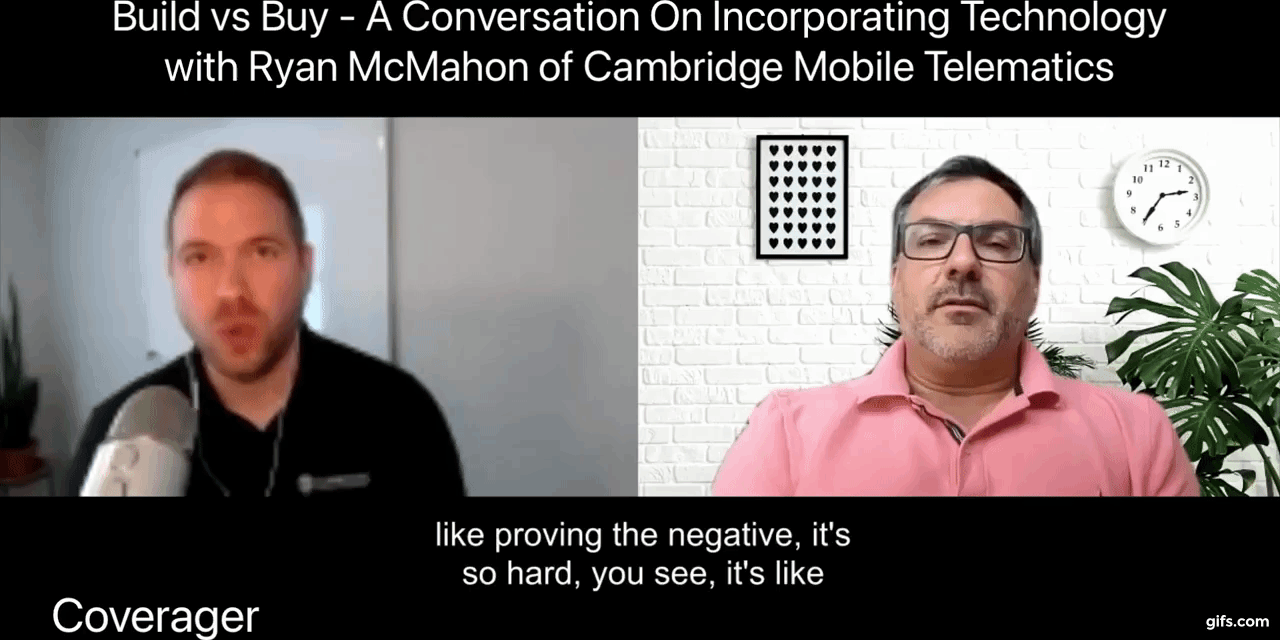 As an insurance professional, I was taking it for granted that the technology was "here" and that insurers just had to decide to absorb it into their ecosystem. What Ryan and I discussed are the layers of complexity involved in doing this from scratch. Not only in the initial build but also in all subsequent builds. The maintenance is often more costly than the initial build, requiring a dedicated team that can stay on top of the technology and pivot where necessary. As Ryan says, in order to execute successfully at scale, the small minor details MUST be addressed because at scale, small issues compound to big problems. This is one of the advantages agile companies have over non-agile, and that insurtechs, by and large, are bringing to insurance solutions.
Having the will to build is not enough. Having the commitment to build is not enough. It has to become part of the DNA of the insurer. The ability to think of the product and solution in a way that is a major departure from how carriers traditionally thought about it.
Watch here:
𝐂𝐨𝐧𝐧𝐞𝐜𝐭 𝐖𝐢𝐭𝐡:
Ryan McMahon (LinkedIn)
Cambridge Mobile Telematics (CMT) Homepage
Musical Credits:
Shadows by David Cutter Music:
https://davidcuttermusic.com
https://soundcloud.com/dcuttermusic
Free Download / Stream:
https://bit.ly/shadows-david-cutter
Music promoted by Audio Library:
https://youtu.be/qiBHOiEl9EI
Video Credits: Intro Stock Footage by Videvo 
Transcript
Nick
Hello, everyone, welcome back. This is the Coverager Podcast. My name is Nick Lamparelli. My guest this week is Ryan McMahon. Ryan, how are you?

Ryan M
Hey, Nick, thanks for having me on.

Nick
We're gonna have an interesting conversation. Ryan is with Cambridge Mobile Telematics CMT. And we're going to, yes, we are going to talk about telematics. But I think the conversation is going to traverse a bigger topic around insurance, the intersection of insurance and technology. So before we get into that conversation, I start all of these, Ryan, allowing my guests to have a little bit of a pedestal to give his or her elevator pitch. So Ryan McMahon, who are you? What do you do? Why is it important?

Ryan M
Thank you Nick. So I have worked in the insurance industry since graduating from college. Now I work for a tech company Cambridge Mobile Telematics but works very closely with the insurance industry. I started as a claims adjuster, auto PD adjuster, out of Syracuse, New York working to actually learn the policy, which is pretty cool. So this is all very well planned out. By the way, perfect career planning, should I want to start as a claims adjuster right out of college. And then you know, finally work for a for a fast growth technology company that uses telematics to help make claims processing easier. So this is all very well planned out. But in that intervening period, I worked in the insurance industry had a really good career there, worked with some really great people, excellent mentors, friends, that helped me learn the business, understand kind of all the facets that go into it, I really am fascinated by the insurance industry. It's not the area that in all reality that I thought I'd be working in, I think kind of like, there's a lot of people that are there, right. But student loans are coming due. And my you know...

Nick
You got to get a job!

Ryan M
Had to get a job, right. So I had to get a job. And that job for me was a was auto PD adjuster. What was cool is, at the time, Hanover had a rotation program, I don't know if they still do or not. But they backed you to the home office with a bunch of other people that they trained at the same time. So it became like your peers, and you sat down in the classroom, learned policy. And then you went back and adjusted claims that came back. And it was awesome, because number one, you immediately had a network in the industry. And then number two, you actually started to learn the intricacies of the policy in the auto policy. I mean, it's the simplest, I think probably of all the lines of business. I mean, I look at the folks that are in, you know, complicated cyber coverage or Inland Marine, all sorts of interesting stuff out there. But auto it's still very, you know, intricate and really unique kind of state from state. So I worked on that for a while and had the opportunity to work in a rotation program moving through different areas of the company, agency distribution, marketing, competitive intelligence, that area, and then went to work in commercial lines for WR Berkley, great, great company, I worked for Acadia insurance there. And then came to Plymouth Rock, which is a northeast privately held company, really, you know, again, forward thinking, interesting company, for sure, had all three distribution systems, captive, independent agent and direct. And, you know, really did some interesting things there regarding the product and distribution and new developments. And then it was there that I started to learn about telematics, I will tell you at first, I was very anti telematics. I told the story a few times, but I was asked to join a meeting on the topic. And at that point, you know, we had experimented with a couple of things and just created a lot of challenge at that point.

Nick
That was at Plymouth Rock?

Ryan M
Yeah, it's the you know, at that point, the technology was plugging devices, at least in the early days. Right. So the challenge of trying to get the trying to get the consumer to plug something in to a car, and then send it back, actually, and then, you know, all the logistical challenges there, there was no conductivity, that kind of thing. So at that point, you know, I sort of wrote the technology off. And then I learned about a company in South Africa called Discovery insurer and what they were doing in the space got fascinated with what they were doing. I talked to ex employees, I talked to agents that were selling it, I engaged with people over LinkedIn. And I gotta tell you, this world is very small. And people are incredibly helpful. And just absolutely, if you want to find something out and you're willing to put yourself out there, I found that there are such great community in the global insurance industry. And that's what I received back from the great people that were engaged in this product called Vitality Drive. I learned about telematics and how it actually did a heck of a lot more than what I was experiencing at the time and because of that, I really got fascinated with, you know, with the product, we rolled out a great product that's still in the market today called Road Rewards when I was at Plymouth Rock, and then I had the opportunity to come work at CMT. And this was when the company was about 40 or so people. And it was right before the company got a private financing round from Softbank. And at that time, in my career, I thought that I was making kind of a big, big risky leap going from the insurance industry that is, you know, very well kind of career planned out, working into the tech industry. And, you know, quickly, kind of got on the rocket ship that has been CMT since about 2018. And, you know, listen, the company was doing amazing work before that, and but accelerated substantially. And that's how I came here. And absolutely love it. It's such a pleasure to work in the insurance industry, around the insurance industry, in technology. And it's, it's really kind of everything that you'd want and the ability to kind of move ideas forward, as well as kind of dealing with the challenges that exist in today's ecosystem.

Nick
I remember when you were making that move, every member, either via text message or email, you're like, Hey, I'm doing this thing. And I'm going to a tech company. And this is like, you know, risky, right? Like, it's, it's anti insurance. It's where the insurance industry is like that you can develop a career there, you know, very conservative in how that all operates, very different than the tech industry. Yeah.

Ryan M
And I think I look back at that now. And I realized I was kind of crazy. relative to how conservative I was, then, and, frankly, the CMT CEO, Bill Powers, I think really, helped kind of lay out the vision of where the company was going. The company, CTO, co founder, Bill was also co founder, Hari Balakrishnan. He was, and still is a professor at MIT, and just really got a great feeling for the direction of the company and where things were going. And it worked out, you know, exceptionally well. And, Nick, I think that the first time that you and I met, by the way, for anyone that's listening in New England was at a Pub 99 I think it was north of Boston, when

Nick
Woburn Mass,

Ryan M
that's where it was that Yeah, so yeah. And I appreciate your your input by

Nick
2017!

Ryan M
I think you're right, I think you're right. And just I really appreciate it, because, you know, you had I think a similar path yourself. And I appreciated the the input that you you were able to give to me. And, you know, listen, this is this industry. Again, it's huge, right? It's absolutely massive global industry, but the people in it, I found to be it's just a very rewarding place to work in and around from a community perspective.

Nick
Yeah. And so I think what precipitated, You and I have stayed in touch was what precipitated this particular discussion was just a catch up that you and I were having. And I, I'm doing something in my personal life. That somewhat overlapped, CMT, and what you were doing in industry, mine's on the CAT side of the business, yours is auto. And you said, basically, oh, yeah, we did that. Oh, yeah, we do that. Right. And we, we had, we started to have this conversation, because you were giving out a little bit of advice on, you know, what it takes to actually do something like that, which is basically building some sort of technology that's going to plug in, to it, not a vehicle, just an auto insurance policy. That mean, the vehicles kind of assumed, mine was a little bit different. And we started to get into a philosophical conversation of buy versus build, right? And the challenges that come with that, and I'm like, Okay, let's stop this conversation. Let's, get this on tape. So we, we set up this recording. And a lot of this has to do with what you've learned over the past few years at CMT. And that just the challenges, right. And so right off the bat, even before we started recording, because I think such a fruitful area to pick at, we talked about culture, and just straight up, anytime an insurance company wants to build something that's technologically oriented or outside of their core, there's, a possibility of an immediate culture shock, right to the organization, right. And you brought up a couple other points as well. Let's expand on that. I want you to kind of go into that because it is true that you've been on both sides, right and you've implemented some of this stuff. Talk a little bit about from an Insurance company's perspective, the challenge just the challenges of even if you have commitment, and that's I'm kind of assuming that but that's its own little thing we should pick at as well. But even if you have commitments, it's you're essentially deciding to build a second separate organization, because it's almost like oil and water. Let's expand upon that a little bit. from your experience. What have you seen within the dynamic that would cause cultural cultural shock?

Ryan M
Yeah, I think, Nick, there's, it's interesting to think about it, even if you step out of the insurance industry for a second, the priorities that organizations set relative to where they're going to put their, time, energy, treasure, you know, the whole time that they are existing as a business, I think that the the more time that I have in career, the more I realized that prioritization is probably like the absolute most important thing that any business can do, because there's there's a finite resource on people's time, right, that that mostly is the element that contributes towards where success is held. And when you think about new ventures, or where you're going to put emphasis on, you know, from an executive standpoint, on down, there's only so much emphasis that can be put in any one area and you can hire so you can expand the ability to bring in more capabilities, but often, the bottleneck occurs higher up in the organization, and where are you going to place the emphasis, and if things become problematic, like, you know, the day that you have the red alert, whatever that may be, what gets the time energy and attention to that? Is it the thing that you know, your core business that that pays the bills, so to speak? Or is it the new venture that expands out? And I think that what's interesting is, you know, I saw the insurtech startup world, from the inside of an insurance company, early on, I think maybe it was 2015, or 2016. It was the first Onramp conference that was, I think, held in Chicago. And I saw, you know, these new entrants, and I think a lot of the discussion in that time and day was on disruption. Because I think that the industry at that point, you know, had not adopted a lot of the technology that you see today, of course, a new incumbent or new entrant said, hey, we can disrupt this and do things completely different. I think the crop that's in the industry today, especially in those that are competing directly with insurance companies, obviously, CMT is not one of those. But there are, you know, of course, companies that have that have sought after insurance policies for those individuals. They have, basically built businesses that compete with the incumbents. But I think what's happened over the same time, as the incumbents have made a decision, they've had to make a decision of, you know, we're going to add capabilities, how do we source those capabilities, and I've seen this happen on both sides. And I think that the challenge that comes to it is, when you decide what capabilities you need, how quickly can you acquire them? how efficiently can you acquire them or build them? How do they build to your long term sustained competitive advantage? How do you understand and build around that capability? Do you add to it from something that's available off the shelf and make it your own and ideal to your situation? Or do you build from scratch? I think the challenge that comes in when you start building more and more and more from scratch, from a cultural perspective, it becomes challenging to determine where your priorities are, is it within the technology element that you're building? Or is it within your ability to compete and acquire customers? Is it in your ability to model and identify risk? I mean, the list goes on and on. And the challenge comes down to, you know, really, from a cultural perspective where it is the energy best spent, and how do you bring in the right levels of capabilities, whether it be talent or or in, you know, capabilities to meet the demand that the market brings, and the markets obviously evolving fast at the same time, like very fast?

Nick
Yeah. And so I think part of the part of the calculus has to be so I kind of come in this from an area of ignorance, I purposely didn't study. So I'm going to I'm going to list some things that I would think would be part of the elements like if I were a carrier, wanting to introduce a telematics element to my auto program. It's what sort of technology is going to capture the information, I think most would lean toward I would lean towards smartphone because it's ubiquitous. Everybody has one. So a lot of the technology is already in the phone, but I know other carriers have gone a different route. So you have to choose that. Then I'm thinking well All of that is nice and good. But I need to build a model that can take that information and basically segment out different levels of risk. What does this information mean? And how do we quantify it in such a way that we can bucket drivers, right into certain segments of, you know, low risk to higher risk, then like, I hadn't even thought about it until you and I started having this conversation, then I have to file those rates and actually get those accepted rater, and then create a marketing plan around the the disruption internally, to my distribution force, how are we going to sell this? What's the impact going to be? We're going to probably lose some customers? How that's all gonna roll out. It's it's almost like rebuilding from the ground up. First, did I miss what did I miss?

Ryan M
Well, I think the first thing is the the ability to actually capture the right data to determine what's risky or not, is not guaranteed, you have to do that exceptionally well. And what I mean is that there's a lot of sensor platforms that exist on the market that will tell you information. And again, you know, I'll make this more general, let's just take it away from telematics for a second and say that you want to understand the risk that a building will have a collapse, or you're going to look at a potential for an in, you know, machinery to break down, right, you need to be able to collect enough sensor data that can help you identify what you're looking at. And how are you confident when you're doing remote sensing that what you're think you're measuring is accurate? That's a challenge. And now add to this when talk about smartphone. I talked about a consumer platform. Right. So the great thing about it is it's ubiquitous, right? I mean, the majority of people that insurers are targeting today have smartphones. But at the same time, those smartphones vary significantly. Just to give you an example, CMT's platform is on I think about 3500 different unique handsets. And I didn't even know that there were that many. But it's a lot.

Nick
I thought there would be 2, Android and IoS

Ryan M
Yeah, for sure. And then there's flavors of Android on top of that, right? So you have different iterations of the software, different iterations of the hardware, and then all sorts of configuration settings. So from a from the from go, from the first minute, how do you know that the risk that you are sensing is, or the data that you're sensing is representative risk. So that's very challenging to do. And what we have seen, the way that we have tackled that at CMT is I think, pretty unique. The company decided early on in cooperation with one of the early company or one of the company's early customers to develop this device called a tag and it sits in the car and attaches to the windscreen like a toll transponder. I know you're from the northeast. So like an EZ pass on us. Yeah, it's like the size of a fig newton. By the way, if anyone's listening internationally, Fig Newton is not an international snack cookie, apparently. So that does not work very well. When I'm talking to folks in Europe. It's shocking to me, too.

Nick
It's a nice soft cookie with fig jelly inside.

Ryan M
It's great. It's great. Yeah. So if anyone is looking for Fig Newtons, you know, hit me up. And I'll I'll figure out how to get them to you across the across the airbridge. But so that that sensor, what it does is it gives us really this amazing ability to compare two sets of data. And you do this in a way that that allows you to get this constant platform across all those different smartphone models, and different iterations of software. And that's your starting point. So now you have two sets of data for the same type of events, not all the events. So you're not comparing everything, but a starting point to start to build off of to give you the sense of what is what are you looking at. And then from there, now you need to have the infrastructure to determine from that raw sensor data and the raw sensor data as a lot, was on a call with did a webinar earlier today with AWS and AWS is what CMT's platform runs on. And, you know, AWS looks at telematics, I think very positively one of the elements is you know, it's a ton of data, right? Because you're you're collecting this the smartphone is collecting data at 15 times a second.

Nick
And it basically satisfies the criteria of big data. It's voluminous, it's got high velocity, it's coming. It's consistently coming at you at a rapid rate. And so you have all sorts of challenges with not only collecting it, but storing it and then it's so much data, retrieving it yeah when you want to work on it, like We're for a single vehicle we talking like, gigabytes, terabytes of data, ultimately...?

Ryan M
Oh that's a really good question. I should know that answer. It's a lot. I don't know the answer.

Nick
But across a portfolio, like, it's probably like, a ridiculous amount of data.

Ryan M
Yeah, I don't I don't think that this would work without cloud infrastructure. I mean, I just I don't think that you would be able to scale these kind of programs without that. So you have all the data, and then you have to figure out, you know, what's a speeding event? What's a hard braking event? What's a smartphone distraction event? So none of this stuff is guaranteed, right? So when you when you think about, you know, these principles, walking into this, your ability to number one, determine what risk is out of the the core data is not, you know, guaranteed, and then your ability to then fold that together in a way that is predictive also does not, it's not, just because you say you're doing telematics doesn't mean you check these boxes. And I got to tell you, when I came to him to sort of surprised I saw a study by a consulting firm, and the number of telematics service providers that they referenced in the study was substantially larger than I thought existed at that time. So there's a lot of companies that are in that presumed to be in the space, right. And then there's companies that think at different times in place, they've decided to build their own internal structure. And again, I've been, I've been a part of some of that work successfully. And some of that work not successfully on the insurer side, where, you know, you've set out to build something and then, you know, it either comes to fruition or not, but it seems easy to this point, right? So I think what's what's interesting about just that conversation that you just had, is, it seems easy, because the UI is pretty basic, everyone kind of understands what a telematics app looks like that It measures drives, and then it pops up where things happened. But to do that, at scale, at both edges, right, and for, for drivers that, that, you know, look as disparate and different as the general population with different phones and all these things is very hard to do. So to do that, at scale creates, really, the need to bring in a lot of capabilities. And it changes, I think the biggest thing about this is, this is not a static solution. Number one, driving behavior changes. Of course, COVID is like the ultimate change. But even before that, you know, like driving behavior doesn't look the same Person a to Person b, and then it changes over time. So to presume that you can model for, you know, a minute and determine, you know, what that's gonna look like forever. That's hard to do. You know, some people do it very successfully, others, you know, requires new tactics. But then on the other side of things to the software changes, right, almost every single year, Android and iOS come out with new iterations. So staying on top of that, and head of that is a is an effort all by itself. And at the CMT side, you know, what, you know, we have kind of the expectation of what that looks like. But, you know, that's the, these are the little edges, right? That when it comes to, to buying something, or building something, I really have come to the point, you know, as a homeowner, that I really value expertise in certain areas that, you know, maybe before when I was younger, I would be very happy to try to fix something myself and a few few YouTube videos maybe sufficed.

it's too easy to get to the point where you try to do one thing, and you end up creating, you know, more problems down the line. So I see a lot of similarities between between the two elements.

Nick
Yeah, it really highlights the conundrum with price versus cost. And so that has been my experience having worked on the carrier side, is there's not a lot of mental energy given towards what's it gonna take to maintain this thing. And it almost sounds like from what you're saying, the maintenance is probably going to be more expensive than actually building this thing. Right? Because it's just going to be constantly changing. You will need staff to kind of keep up on that. And it's a pretty regular cycle, because the I know, the phone equipment is constantly changing there. Yes, new phones coming onto the market. So it requires...

Ryan M
The new iPhone has LIDAR in it, Nick, it's got, you know, evolved things. I mean, it's crazy, right? So this stuff is evolving so quickly. And I don't think that I personally knew how much went into the technical aspects to keeping the trains running on time, so to speak, until I came into the inside at CMT. And that, to me is something that I value. I mean, we have some amazing engineers, like absolutely amazing engineers. Our office is now on the campus at MIT. So just to give you a sense of like, how connected we are to kind of that research level. It is a huge, it's a huge advantage to have people that obsess over small, tiny details, because those small tiny details in one area end up becoming, you know, the massive issues at scale, right? Scale is these things that, that I think, is so hard to understand until the point where you have like 2 million simultaneous drives happening at one time, in Japan and, in Mexico, and in Europe, and then all these things happening at the same time. And I think that bringing these these elements together, and doing it in a way that that works over time, and builds is amazing, right. And there's an art to, to the engineering that I think is unique to individuals that that come into tech, right? That is a very unique skill set.

Nick
And so I think it would be a lot of insurers that are in the auto space will just you will continue to carry telematics, but this could be the IoT area, you know, from, from an actuarial perspective, they've always owned the data, right. So it's their claims data, their exposure, their actuarial exercise to sort of normalize all that this is a complete, this is a complete shift. This is not their data, it's coming from somewhere else. They'd have to build the technology, I too, I think would have taken it for granted. Like, some of the things that you said to me were, I think, outside of my expectations. For this, I guess my expectations would have been that it would have been more normalized that from an engineering standpoint, it at first glance, it didn't seem as challenging. And now as you put color and context to it, it's like, Whoa, this, this is a big deal. Right. And that's just to normalize the data that's coming in, then you have the additional challenge of predictive data versus actuarial data. And then making/creating models out of that stuff. That too is a culture clash like that...these companies, the companies that I'm thinking of, some of them would be like 100 years old, all they know, is an actuarial methodology to get to a rate. This is kind of like a moving target. Right? It's, you're trying to use predictive data science in order to get in front of it and try to guess things before the claims happen. And you're not working in arrears. Talk about like that, the challenge of just sort of aligning those two different methodologies.

Ryan M
Yeah, I think that it is a different methodology. And I think that I actually am really impressed by the people I've met at CMT, that have learned, you know, the GLM approach, they actuarial approach we have we have actuaries at CMT, and we have data scientists, and actually insurers are doing the same thing. Like we've seen insurers that have invested, you know, substantially in building up very, very smart, talented data science groups that are able to kind of adapt to this. And it really is a different function in a lot of ways and I think that there is more blending between the two. And I have such such admiration for the actuarial profession. I've great friends that are actuaries. The challenge of trying to match rates of risk and do it in a way that that makes sense with the available data. I've been going back hundreds of years when data I mean, data for us now is there's so much data that you have access to and you go back, you know, even 30 or 40 years, the availability of data is so hard. So today what we have is way more data than then really it's been it's easy to use, and at the same time, you need to make sure that that data is fair. Right? So there's a lot of data. I mean, there's examples in the in the 70s, I think maybe was the 70s, where life insurers had to stop using race as a predictor relative to, to life expectancy, right. So just because you have the data doesn't mean you can use it. At the same time, it's got to be fair and equitable at the same time. So what what's different about telematics in a certain way, is that what we're doing is looking at observed behavior. And I think that that's unique, because most of what, what's available is correlated, to try to get to the point of understanding what what correlations lead to loss, we have the really unique capability, and there's other places that have this too. There's life insurers that are kind of getting into the space, in a great way of looking at causative data, like what data actually...what signals trigger a likelihood of a loss. And I think that that's what's amazing when you think about this, is if you start to get to that point where you can look at these behaviors, and predict where you're going to see losses, you can actually stop them. And I think this is where...

Nick
You can change the behavior.

Ryan M
You can totally change the behavior. And a lot of people look at telematics and they say no, you're not gonna change driving behavior. I think that's completely and totally wrong. And the reason I think that is we've observed this like, a lot of times, in safe driving competitions, the Federal Highway Administration has looked at this, it's been studied by organizations like University of British Columbia, it's been studied by Harvard, we've had customers that that cite this, financial institutions look at the actual implications of this. And I think that a lot of people think that drivers are who they are. But the two things that they discount are this crazy, crazy, crazy trend of distracted driving, which is way off the charts. And these behavioral elements around speeding, that are highly receptive, or influenced by environmental conditions. And one of those environmental conditions. I mean, I feel like this is it shouldn't even be a topic of conversation anymore, you look back at what happened over COVID. And people started speeding like crazy, you know, massive spikes back to April,

Nick
there is nobody on the road...

Ryan M
There's nobody on the road, right? So they can just do whatever they feel like they're doing, they want to do it, by the way, at the same time, Nick, the same exact time distracted driving spiked to the highest level ever. So you know, so we're, we're doing that. And what we're able to build out is this prediction of looking at what behaviors observed over some period of time, and then determine what's gonna happen the next the next three months. So we built a model, our model is actually filed and approved in 46 states as we recording here now, for personal and 45 (states) for commercial, it looks at 90 days of behavior, and then predicts 90 days behavior. And it's amazing when you think about that capability, but it's a completely different approach than the approach that you would take at the actuarial process, because you're looking at correlated versus cost of that behavior.

Nick
But they do I think they do go hand in hand like I think it's I don't think any actuaries that are listening, this gonna think that their jobs are at stake, I think, really, what we're trying to do is, you know, get a gauge on losses, future losses, it's just another tool to me, and I think they there's, there's both elements I on the property side that I work on, you know, we are working on predictive models, but, you know, ultimately comes down to how good are we at predicting the potential claims? How well did we do? And then also working in arrears, the claims that did happen, like what could we have seen like there's a giant actuarial element to that that I think reinforces one another, the predictive helps the actuarial. And I think the actuarial can go in and actually help the predictive piece of it.

Ryan M
I totally think that. I think this is what what is fascinating to me, is this, this orchestra of taking in all of these components together and making something that is really unique, and I think that's really where the build versus buy conversation comes in. Because now, you know, we work with 65, we have 65 programs around the globe, and and seeing how each insurer, each insurers is very different, by the way like this. These are not like the kind of things like oh, someone just picks up the product, and off they go. Like there's so many considerations to this. That's why I think it's just fascinating. I mean, I sort of just talk about this all day, every day. But it's different in the approach, and I think this orchestral this this product that ends up coming to market is so unique as a result of all the contributions that come in and being able to pull in expertise from different areas has provided a lot of value, I think in in the market and I think that actuaries I mean, I, again, I spent a lot of time today, working alongside of actuaries, and looking ahead to their ideas and concepts and helping them deliver on and where they're going. And then we build in data scientists, to the conversation to find ways to make this go faster and help us and then, you know, bring in experts in behavioral science to figure out what do we need to message to a driver to get them to understand to reduce that, and that's where, man, we're just scratching the surface here. It's the The opportunity is so big, and it has real world real life implications. And this is what's amazing, I started crunching the numbers the other day. And if you look at how much money the insurance industry is contributing relative to the reduction of premium to roadway safety, they far far far exceed the amount of money that's being spent by organizations like NITSA, and others to reduce traffic, traffic crashes based on incentives, right, the insurance industry is giving incentives, hundreds of millions of dollars of incentives in reductions of premium as a result of showing that the driver is safe. And that's in direct, you know, contribution to reducing crashes. And I think that that's something that goes, I don't think people think about it in that way. Because it's it's a step. But it's amazing when you think about the capabilities to ultimately change risk, as opposed to just being limited to pricing for it.

Nick
Yeah. And, from a business model standpoint, I think there are a couple angles here. One is because the takeup of telematics hasn't been ubiquitous, there's a differentiation, opportunity, your ability to segment, your ability to price, there's, and the using telematics to touch your consumer in a way that insurance has never really been able to do before. I'm not talking about Hey, I got a bill a, we touched our customer type of thing, but in a positive way information, right, where it becomes something else. And then I think, long term, right? It's you're almost putting yourself at a disadvantage, right? Like I sort of think of any carrier that doesn't do this, like 10 years from now, they're almost going to be adversely selected against like, you'd almost have to wonder, someone that doesn't do the telematics that does want to go to a traditional carrier doing it in a traditional way, there's a reason why they're probably going in that particular direction. So I think from just a business model standpoint, the margins are just going to get tighter and tighter. And this is, this is a way to kind of leap forward and do things in in a different way. Thoughts on that.

Ryan M
I think it's happening now. I mean, I think adverse selection is there, I mean, the hard thing about adverse selection is, it's like you don't know, right? It's, it's like proving the negative, it's so hard, you see, it's like small, little erosion, it's like tiny paper cuts that are hard to see, your win rate is doing weird things, your close ratio is doing weird things, you're you're off in territories relative to what you should be seeing from a performance perspective, your mix of business is moving in weird ways. And, you're looking at the numbers, and it looks, everything looks fine. And that's where you know, there's a problem. And then you start getting the competitive data and the quotes, and this is I used to do this, right, you get the competitive data, and you look at where your quotes are coming up versus your competitors. And then you start asking questions like, why are we so far off on some of these, some of these risks, and, you know, it gets concerning, because there's ultimately, it ultimately comes down to you, your competitors know something about the risk of that you do not. And this is a great function for the market, by the way, because It drives, it drives activity towards a high level of efficiency to matching rates of risk. And that is great for, you know, the entire process, right? Because, you know, that's really what we're trying to do in the insurance industry is match rate to risk. And even better, if you can, you know, change that risk, but the insurers and I think it's happening now, Nick, I don't think it's ubiquitous by any means. But I do believe that you look at some of the insurers that are in the space, they have amazing combined ratios, great growth. And there's others that aren't as public about this, and they're having success, too. But it's still early days. You know, it's still, the default way of buying insurance does not involve driving data, or driving behavior data. It involves, you know, traffic tickets and how many accidents somebody had. And that's predictive to no doubt, of course, absolutely predictive. But I think it's accelerating. You know, if you start to look at some of the early signals, and really it you would think that telematics has been around for a long time. So, you know, you think by this time, it cracked through but in reality, kind of the early iterations of telematics, were so niche and so kind of constained to a specific market that they really didn't get the full runway. And what you're seeing now is you're seeing substantially more investment. And I think that insurers have, by and large looked to experts outside of the insurance companies specifically to help come in and build in capabilities that enable them to take that and build it into their competitive advantadge. And I think that that's really what's happened. And now that that is shift has happened in kind of earnest, then insurers then start to focus on instead of focusing on the basics of the technology, like, you know, instead of the very basics of trying to understand that, you know, am I looking at hard braking event or speeding event? Or am I am I sure that that this is measuring correctly or not? Now, they're getting to the point of trying to understand how do I use this data to attract the best customers? How do I use this data to reduce losses? How do I use this data to build better pricing, and just today, I got an email from my insurance company told me at amazon gift cards to redeem based on my safe driving, you know, that's how I interact with my insurance today. I didn't get a bill, they gave me money. So that's pretty cool. Right? So that's where the focus is moving. And, you know, when you have experts that start to put their attention there, then man, this industry changes quick.

Nick
Yeah, not and not to mention, the ability to rethink what auto insurance is from, from a customer perspective, like, like I said, the ability to touch a consumer, you, you just got that with Amazon giftcards. Right. It's a completely different dynamic around that. So I view it as like, you know, conversations that may not have been had, like, hey, there's a pool of drivers that aren't exactly the safe drivers. You know, we're using, like you said, traffic tickets and accidents to kind of be predictive about them. But now there's a marketing aspect here of like, well, which segments can we influence their behavior? Right? Like, which groups can we turn from bad drivers or poorerr drivers to better drivers, and make that shift? And we can ride along with them? Right? Like, that's, that's a victory for society in a way, right? Like, you're not totally for that group. Like, you're, the expectations of accidents should drop for them. But now the carrier is fulfilling a role that's like, well beyond like, Hey, we're gonna wait till you have a claim, before we show our value to you to no! from day one, you know, it kind of kind of like me with my, my smartphone and some of the fitness things like we're gonna turn you from, you know, someone that wants to be healthy into someone that is healthy, someone who isn't a good driver, right to someone who's a better driver. And like the implications of that I just did as I'm talking, I'm thinking, teenagers. Right? Yeah, parents of teenagers, like, that's an immediate value add for me that I will have a technological tool that could potentially help me get them up to more of a experienced driver level faster.

Ryan M
I think that this, this is such an important topic. And I had this conversation with a road safety expert the other day. And actually, it was kind of interesting, because you think about teenagers and inexperienced drivers as a absolute source that needs education. But when was the last time that you or I actually got evaluated on our actual driving? How, how well, are we doing? Right? Like, when was the last time we got trained?

Nick
Every every time I'm in the car with wife! You knew that was coming?

Ryan M
Yeah, so like, the thing is, like, I mean, the roads are changing. I mean, the roads are changing, the cars are changing the ADAS features man ADAS features are changing, too. Right. So all these things contribute. And, and I think that having an independent technology assessment tool that helps you understand exactly how safe you are, and continue to train you is really important, because you really don't know. I mean, you think intuitively Of course, right? But then you start driving on local roads and using the tech and this happens to like almost every single person I've tested with in the past, they didn't realize how much they were speeding on their like streets around the house. And, and those are dangerous moves, right? Because, you know, you have kids that are running out chasing balls, those type of things, and scary and it's just a rote, like all these activities are so rote. You do them all the time. And until the point where we get this tool that helps us understand in a non, it's not penalizing, right. So the vast majority of this is providing feedback to drivers and then building incentives on top of it. There's a ton of penalties out there for driving poorly but they're not enforced all the time. The number of speeding events that we assess versus number tracking, somebody gets,

Nick
The amount of accidents that could have happened, that were missed. And that's a flaw, right, like in the actuarial model is, you only see the things that actually happened, you don't see that the near misses, right,

Ryan M
we presume is that the data that you receive is is is applied ubiquitously, like you presume that all traffic tickets are enforced universally, but it's not right, that's definitely absolutely not the case. So then you start building models on top of that, and this is where the challenge comes in. Because you're only as good as the data that comes to you. So so I think that the the ability to further this along creates this amazing opportunity. And then, you know, this is really where again, back to that build versus buy conversation, focusing on the things that add value, like the really, really important things that add value. You know, I think that AWS has done that, right, you know, where they focus on, you know, they'll focus on how well to put together a computer to run most efficiently to to extract hardware data, whatever it is you need from that machine. And that's probably not a core competency for, you know, it needs to be a core competency to analyze and price risk. And I think that this is the same type of story here is building in core competencies that complement the abilities out there. And I think that really Insurtech has moved, like most of it, not all of it, of course, but most of it is moved to supporting the infrastructure that are exists and leveling that into the the industry. Of course, there's tons of examples that, you know, competitive, that are building in new things, and sometimes it just moves a lot faster. And that's where it's faster to get into more.

Nick
If we have not beat a dead horse around buy versus build. You did bring this up. And it was, I think, the moment in our conversation where I wanted to stop you and like we got to record this was you actually went through the process of getting the rates filed. Right. And I think almost anyone that's listening to this that's gone through that process knows how grueling that piece is, how time consuming it is, time is money, right? Like, I think that's probably an underestimated piece is that we'll be able to capture the data, we'll be able to normalize it, we'll be able to build the model. But then you got to get a regulator to sign off on that piece of it. And, you know, I think that I think that is it's one of those points up leading up to the filing, if you hadn't already given up, I think for a lot of folks, you'll give up during the filing process. Because, again, that's another data, big, big effort upfront, and then you have to continuously prove yourself over time. I think it's I think it's a big burden for someone to carry when it's not especially initially your core competency.

Ryan M
Yeah, I actually, you know, I look at this as such a value add that we provide. I personally am very thankful that CMT decided to go down the route of building out all the capabilities that were needed to, from an infrastructure perspective to make the the models that we have, and then to answer all the questions of regulators around the country. In June or no, in January last year, we started filing our most recent iteration of our model, we're at 46 approvals and personal lines and 45 in commercial, like I mentioned, and that's, that's a testament to the great work that was done ahead of time, there's a ton of prep work that goes into this. And then really great, really great discussions with regulators. I think that the, the challenge, or the mistake that a lot of people make in this space is that they look at the regulators as like the last stop, and it needs to be the first stop, right? Like when you're starting to think about a regulated product, and you're putting pieces together that ultimately go into that, you can't like presume that everything that you build is going to going to fit exactly as it needs to be at the end of the day. So I think that the the really great work that I think CMT put together here was very proactive interaction and engagement with regulators around the country, obviously, we're talking about the US, internationally, different standards. But I think that proactive dialogue is great. And the regulatory, you know, standpoint, and US is once you get through the work, you know, it's each state has a different view of different elements that need to be analyzed. And after you come through that process of going through were are at 45, you know, with more to come, hopefully, once you come through that, I mean, you have a really robust product, because the number of questions that you need to answer they're not the same questions, you know, from from state to state. And I really, really appreciate the fact that groups like the NAIC, and regulators are willing to engage in this because they're staying ahead of where technology goes. So we do that ahead of time. And then, you know, we come to an insurer and they want to they want to advance something like let's say, distracted driving. Distracted driving is not really in most rates that are being used by insurance and telematics today. And part of that is, you know, you have to make sure that it meets the muster of regulators. And there's a million in one priorities inside of the insurance industry. Like there's so many things that are happening at any one time. And that engagement in front, the regulator, you only have, you know, so much bandwidth to put towards that. So we can help accelerate that. And I think this is something that other companies that are looking to do similar work, they really should pay attention to this, because I think that regulators are ready, willing and able to engage here. And I think that they're, they're very interested in bringing in new tools and technologies that help the insurance industry. But what they don't want to be is kind of like the thrown over the wall, you know, they don't want something that just appears on their, on their desk. And I think that the way to get ahead of that is just plan way ahead. And that's something that you know, when we talk to an insurer they don't have to worry that, you know, we're coming up with something that doesn't meet muster, we're constantly thinking about that, it's the first thing that we think about when we're going through the process.

Nick
Yeah. And to be clear, we did the, I think buy, buy versus build comparison, you can build this, but you have to, you know, if you've listened, if you've gotten this far, and you've listened to this, you have to kind of button up all of those different pieces. And it can be done, it's but it's obviously resource intensive, and is going to require, I think, a considerable period of time, considerable amount of resources and costs to be able to do that. And so, Ryan, we, we, I think we did beat a dead horse. But it's a it's an important conversation. And I think we, we have I have this conversation all the time on the property side. So it's very similar. And, of course, you want to try to build everything yourself yourself. But at some point, you know, you have to realize this is not, this is not a either a value add or something within our core competency. And so we'll never do it justice. So it's increasing the likelihood of failing if you do go that route.

Ryan M
Yeah. And again, Nick, this is this was great. I feel like if we didn't time gate these things, and probably go on for an entire day. So this is I really appreciate the conversation. It's incredibly engaging, really interesting to look at this the discussion of technology and strategy and, and how do you approach markets is so so engaging, and I think that, you know, listen, we contribute to part of that, but it's obviously, you know, the industry is a pretty big place, and it's great to share this, this discussion with you.

Nick
Yeah, let's do it. Again. Let's pick another tech insurer to the overlap of Insurtech and insurance and we'll bring another topic to the table because this was fun. I appreciate it.

Ryan M
Count me in!


Get Coverager to your inbox
A really good email covering top news.