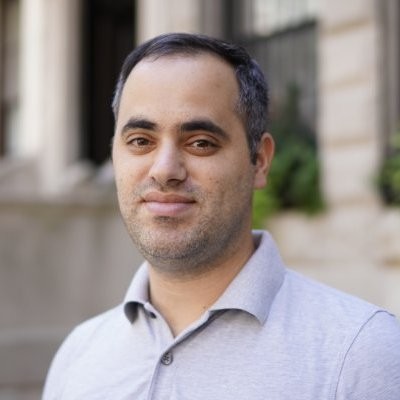 The Resistance
In Admiral Group's 2014 annual report, the then-CEO, Henry Engelhardt, listed his top ten worries for the year ahead with number ten being the least concerning problem. There are several gems on the list, including Confused's Get a Free Brian Toy campaign, which came in sixth place. Engelhardt feared that if the insurance comparison site's campaign did not appeal with consumers, his house would be filled with Brian Toys.
Engelhardt's wife telling him she's pregnant was number five on the list.
Compare.com not being able to reduce its cost per quote or cost per sale to a profitable level was ranked third.
The number 1 worry? Irrational competitors. "All of the above worries, cumulatively, just about total my number one worry," Engelhardt wrote. "The number one worry in this hit parade of worries is always number one on my worry list: irrational competitors. These are competitors who either don't mind if they lose lots of money (perhaps it's even in their plans) or fool themselves in believing they won't lose lots of money (but eventually they do) or don't realize they are actually losing lots of money (and, again, eventually they do). So they act irrationally and buy business and in the world of car insurance irrational they may be, but they're unlikely to pay the price for that irrationality for several years. So things can look jolly nice for them for quite a period of time (growth is good, right?). And the rest of the world is left with a choice: be rational in response, which means you lose a lot of business, or join the ranks of the irrational and sacrifice profits."
This week, Admiral made the rational decision of offloading Compare.com in a deal with Insurify. The deal, which gives Admiral a minority stake in Insurify, completes the group's exit from the insurance comparison space following its decision to sell the majority of its comparison operations (Confused.com in the UK, Rastreator in Spain, LeLynx in France, and Preminen entities) to RVU in late 2020 for ~£470 million. Admiral launched Compare.com, initially Comparenow.com, exactly ten years ago. Yet, before we get into the past, present, and future of Compare.com, it's worth revisiting Admiral and its insurance comparison operations.
The story of Admiral begins in 1991 when Henry Engelhardt was recruited by Brockbank Group, a Lloyd's of London managing agency. Engelhardt, born in Chicago, found himself in England after applying for a job at a financial services startup as he wasn't interested in continuing his job at a management consultancy firm. Engelhardt got the job, serving as the sales and marketing manager, and he even helped find a name for the car insurance startup – Churchill Insurance. The startup was created with the backing of Winterthur, one of the largest European insurers at the time, to compete with UK's first direct-to-consumer insurance company – Direct Line. The name Churchill was chosen in part because C appears before D in the yellow pages.
Similar to Direct Line and Churchill, Admiral also presented a direct model but it targeted a different type of risk. While the first two went after low risk drivers in less crowded areas, Admiral focused on those who were under 35 and living in London. Admiral was successful in acquiring customers and it launched several other brands  targeting different audiences – Bell Direct (credit card payers), Diamond (women), and Elephant.co.uk (internet users). The company listed on the London Stock Exchange in 2004 after the management acquired the company in 1999 from BrockBank Group, following the decision of its parent XL Capital to focus on specialty commercial business lines.
Confused.com, another notable Admiral venture, was founded in 2000 as a web directory listing UK companies selling financial services online. Confused.com eventually became the UK's first insurance aggregator. Back then, a customer would provide some personal information, and Confused.com would populate the appropriate forms across the websites of major insurance companies to present a selection of quotes. This Admiral venture was also a success, with profits increasing from £322k in 2003 to £36.7 million in 2007. But, competition caught up, and Confused.com went from being the leading insurance comparison site to one of the leading insurance comparison sites in just a few years.
With the fierce competition in the UK, Admiral decided to bring its comparison business to other countries and in March 2013 (the same year the founder of Moneysupermarket.com invested in The Zebra), Andrew Rose led the launch of Comparenow.com. "Typically, Americans are good shoppers for most things. However, up until now, they haven't been particularly good shoppers for car insurance," said Rose, who is now president of GM's OnStar Insurance. "Comparenow.com is positioned to change that by bringing European-style price comparison to the world's largest car insurance market. European-style price comparison means the customer can get a price on the website that will be honoured by the insurance company. Until the arrival of comparenow.com, this was not a feature of the USA car insurance market." When Compare.com launched, Admiral owned ~79% of the business, but in 2014 the company sold more equity to White Mountains Insurance Group and Mapfre USA, which owned 21.1% and 11.1%, respectively. Over the years, White Mountains has invested ~$34 million in Compare.com.
In ten years of operation, Admiral reported losses in each year totaling £82.3 million for Compare.com and it went from certainty to uncertainty. "The Board continues to support Compare.com in the achievement of its goals, though there remains uncertainty over the prospects of the business," the company stated in their 2021 report. A few years prior, Compare.com received a boost from the Engelhardt family when Diane, Henry's wife, invested $25 million into the company. The investment, which was made at a 15% discount to the valuation of previous funding rounds, gave Diane a 17% stake at Compare.com, with Admiral owning 59% and White Mountains and Mapfre USA holding the remaining 24%. Admiral also provided Compare.com up to $10 million by way of a convertible loan instrument. In the past few years, Admiral was able to keep losses at Compare.com under control after it downsized the business in 2019, and last year's losses stood at £2.8 million. The company also wrote down its investment in Compare.com several times.
Admiral stated that its group's strategy is not complicated in 2012. "Based on the premise that the internet is an irresistible force, our strategy is to continue to progress in the UK market while taking what we know and do well, which is internet and telephone delivery of car insurance, beyond the UK." The internet is indeed an irresistible force, but what happens when the service you are looking to offer over the internet is met with resistance? Unlike the UK insurance market where a few comparison sites set the tone, in the US, comparison sites are dominated by a few major insurers. In the past, we wrote that US insurance comparison sites in their current state are not an essential part of the insurance value chain – they can all disappear tomorrow and consumers would be just fine. However, some comparison sites provide a valuable service for companies like GEICO and Progressive as they are getting more consumers to shop for insurance online while leaving a bad taste, which drives some to obtain quotes directly from the more familiar insurance companies.
Insurify, which is not profitable, is about to absorb another non-profit company. That is not a good mix, according to common sense. Yet, if Insurify adopts the Compare.com moniker in all of its ramifications, there may be hope. Of course, there is one condition: Insurify (and others in the sector) must respect users' time and energy while providing a good service without caving to the carrier cartel.
Get Coverager to your inbox
A really good email covering top news.