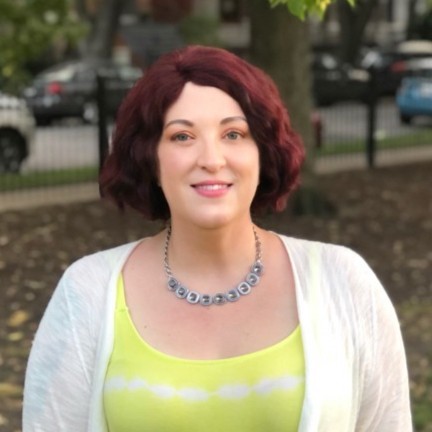 Solving Customer Pain Points at the Source with AI
Q: Artificial Intelligence (AI) is often discussed in the insurance industry. And while organizations have reported mixed positive and negative results in implementing AI as an inbound customer service chat enhancement, I wonder if it can be used to assist insurance customers at the source of their application pain points to reduce confusion and increase quote and bind conversions?
A: The short answer: Yes, AI can be used at the source of a customer pain point along the buyer journey. That's what we aim to accomplish in our first "Diya" use case at B2Z Insurance.
Diya is the brand identity encompassing the digital intelligence that powers our customer journey. The name, Diya (pronounced as dee-uh), is derived from Hindi: dia means "lamp" or "light." For our customers, Diya's data intelligence will help light the way to better understanding as a "Do It Yourself Assistant." Pretty clever, eh?
Diya utilizes multiple technologies and data to provide a personalized, yet optimized experience throughout the customer journey. It is not a fixed technology or singular process, and we consider it to be the sum of all our digital intelligence and the experience it provides.
"You deserve a better way to buy small business insurance online and quickly assess the unique coverage needs of your business with confidence. Meet Diya, your guide to small business insurance."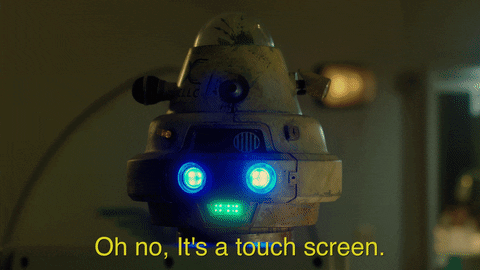 COVID & Buyer Trends
Consider this: There are over 30 million small business owners in the US—70% of those businesses are underinsured and 40% have no coverage at all. With as many as 35% of all businesses experiencing a claim event in a given year, it's clear the gap in insurance coverage could result in the incapacitation of a business or the loss of it entirely. Also, looking at the demographics of the current and incoming generations of small business owners—43% GenX and over 20% Millennials—they want to shop on their terms, via a preferred device and at their preferred time of day. And from a previous Coverager article, we also know they utilize customer review websites to validate their purchasing decisions.
Further, the COVID pandemic has made offering a digital end-to-end experience a need-to-have now, rather than a nice-to-have future vision for incumbents. Business insurance customers demand an experience that mirrors personal line insurance. (Think GEICO, Jetty, or Metromile.) Renowned services company Accenture, supports this assertion: digital transformation is no longer optional, it is an imperative. In a March 2020 study titled, Insurance Technology Vision for Insurance 2020, Accenture stated:
"People don't oppose technology; they remain excited and intrigued by it. But businesses are deploying that technology using the playbooks of decades past, from the days before tech had such a meaningful impact in our lives. Insurers can't make this same error if they are to thrive in the next wave of digital change."
Yet, incumbents continue to serve these customers with their current legacy processes and technology. Further, in a January 2019 research report, Accenture stated: "In five years, nearly all the insurance executives in our survey expect the industry to be transformed by digital technologies." Five years too late, to be exact, especially with the furious shift to digital shopping spurred by the pandemic in 2020. Further, Jean-Francois Gasc stated, "Greater use of artificial intelligence and smart automation technologies will enable [insurers] to provide customers with exceptional experiences. Insurers that roll out AI solutions across their businesses will gain a substantial advantage over their competitors."
Enter B2Z Insurance powered by Diya—born during the pandemic and poised to reach small business owners right out of the gate with a complete digital shopping experience. No hard stop, pivot, or transformation necessary.
Identifying the Pain Points Along the Customer Journey
Taking the time to answer underwriting questions on lengthy applications unrelated to one's business is tedious. Now, compound that with being denied coverage (after-the-fact) based on criteria like business type or number of employees—information that was presented early in the application process. Further, add to that the possibility of a week-long approval period or multiple follow-up calls with a broker. It doesn't make for a delightful customer experience for a small business owner who wears many hats and who's up late trying to purchase coverage. After all, they do not have a procurement team researching best coverage options for their needs; and when they are up late looking to purchase coverage, they expect an experience that is similar to purchasing insurance for their home or personal vehicle.
Building and launching a digital quoting process end-to-end isn't a destination, it's a continuous journey of learning, innovating, and deploying. Once launched, we began studying the on-site consumer behaviors to find areas of confusion in terms of design, verbiage, and overall understanding. It is this post-launch analysis that led us to our first Diya use case.
The Use Case: Business Classification Codes
As we reviewed the customer behavior and actions taken throughout the quoting engine, it became clear business class codes were a point of confusion. At that point in the workflow, customers either lingered far longer on that page before continuing on, or they dropped off entirely. And it's not a surprising finding when you consider there are over a thousand NAICS codes and separate underwriting codes used to classify and rate a business for risk.
In the user experience discussions that followed, we considered numerous ways to integrate Diya's assistance into the customer experience—including an AI-powered chatbot. However, we arrived at a unique problem-solving-at-the-source approach: With Diya's data foundation, we were able to build the digital assistance into the page and interact at the field-level based on observable on-page behaviors (such as input delays). Below are two examples of how Diya assists customers at the source of confusion.
In this example, the customer is seeking a quote for a hair salon business. While on the business classification page, the Diya message indicator pops up and asks, "Describe you business, products, and services." The customer then types the following information: "I cut hair," as a statement. And the result of the inline conversation and Diya's classification recommendations: It matched the customer with "Beauty Parlors and Hair Styling Salons (Including Nail Salons)."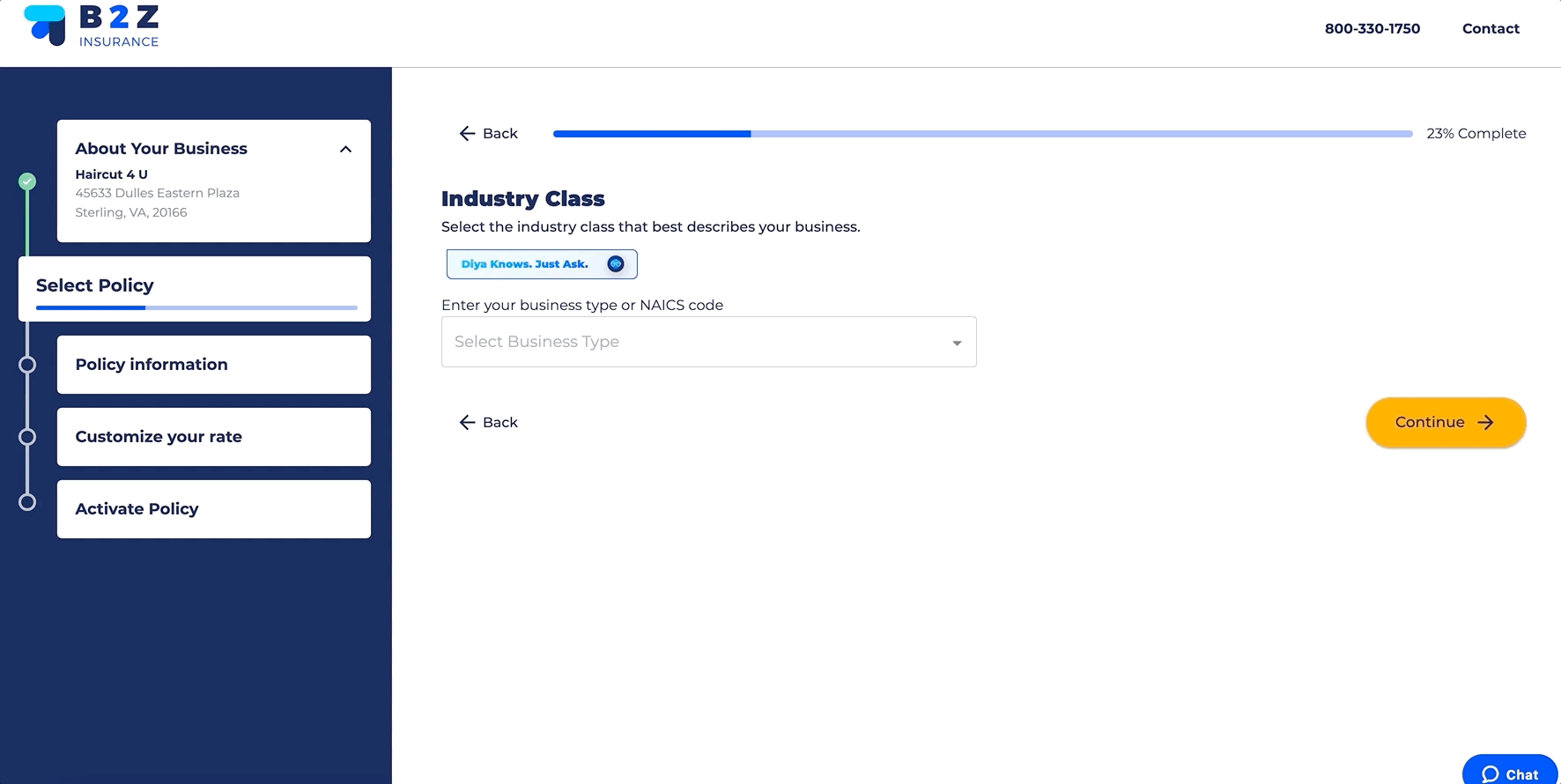 Our second example, the customer is seeking a quote for a clothing retail store. While on the business classification page, the Diya message indicator pops up and asks, "Describe your business, products, and services." The customer then types the following information: "clothing store," as a descriptive phrase. And the result of the inline conversation and Diya's classification recommendations: It matched the customer with clothing store categories including "Clothing or Wearing Apparel – Retail – Family" which was ultimately chosen.
Since the recent launch of Diya and the business classification codes use case, there isn't a sufficient amount of data to report. However, it's worth mentioning that—as part of the B2Z culture of internal innovation—feedback loops are inherent to the design at all stages in the buyer journey. The initial assumption for this use case: An improved customer journey will result in fewer stoppages in the quote workflow, while decreasing customer confusion and thereby increasing quote and bind conversions.
Conclusion
Accenture's 2019 Technology Vision for Insurance survey found that "only six percent of carriers have installed AI across multiple business units. A further 23 percent have introduced AI in one business unit and a similar proportion are piloting intelligent technologies." The demand for exceptional omni-channel experiences has only intensified since the COVID pandemic, and even commercial insurance buyers are expecting a personal lines shopping experience. And while digitizing the experience is key to reaching a new generation of small business owners, the demand isn't as simple as taking a broken process and digitizing it and throwing in a chatbot for good measure. Focusing on solving customer pain points and creating feedback loops at critical stages of engagement, allows for better understanding of how AI can improve and enhance the overall experience for customers.
Author Bio:
B2Z Insurance is a new small business insurtech company that provides coverage for on-the-go business owners: simple explanations, easy digital quoting, and mobile claims. Stephanie N. Blahut is a seasoned digital marketing professional whose experience spans the insurance, publishing, and software industries. As B2Z's CMO, she leads their digital-first customer acquisition and marketing strategy. Tristan Delforge is the Director Data Science at B2Z. He is passionate about data science and experienced in insurtech, machine learning, NLP, data pipelines, prefill, and risk scoring.
Get Coverager to your inbox
A really good email covering top news.